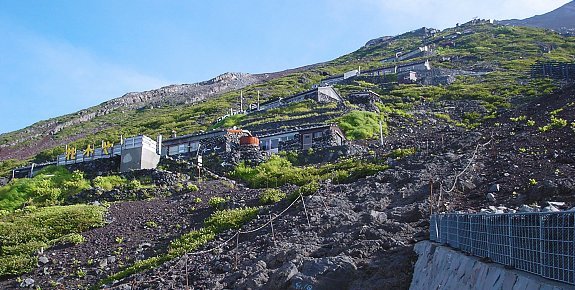 * Mount Fuji is located near the Pacific coast of Honshu - the largest island of Japan. In terms of coordinates, the location can be traced at 35 ° 21'28 .8 "N and 138 ° 43'51 .6" E.
* It is located at a distance of 63 miles (approximately 100 km) from the capital city of Japan - Tokyo. Such is this magnificent geological structure can be seen in Tokyo itself on a clear day.
* No one knows for sure how the mountain is named. According to one of the most popular theory is the name of the Buddhist Goddess of Fire - Fuchi.
* The perimeter of Mount Fuji is 78 miles, while its diameter is about 25 to 30 miles in length. Its perfectly symmetrical shape plays a crucial role to play in what makes it so attractive.
* Mt. Fuji is surrounded by five beautiful lakes - Lake Kawaguchiko, Yamanakako Lake, Lake Saiko, Lake and Lake Motosuko Shojiko.
* The last volcanic eruption of Mount Fuji - known as' The Hoei eruption of Mount Fuji ", which occurred on December 6, 1707 and lasted until January 1, 1708.
* While there is much confusion about its current state, Mt. Fuji is classified as an active volcano with a low risk of eruption.
* The diameter of the surface of the crater of Mount Fuji is 500 meters, while the depth of the crater of this volcano is 820 feet
* While you are allowed to descend to the deepest part of the crater, you need to take special permission and proper use of equipment up to do the same.
* Before English Lady Parkes scale Mt. Fuji in 1867 - to become the first woman to accomplish this feat, women were legally forbidden to climb this mountain. Parkes had to defy the law 110 years old to climb the summit.